Choosing your make for your Mind Crafternoon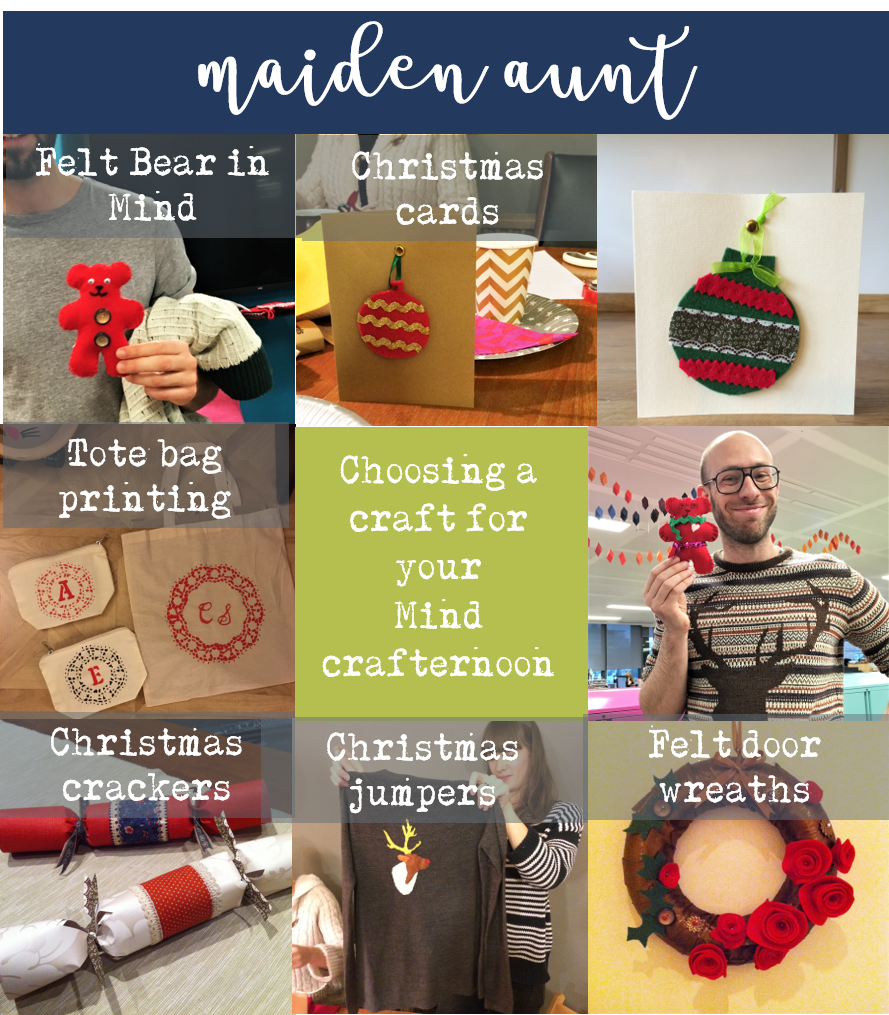 So here's the second of my three part blog on hosting your own crafternoon to raise money for Mind this Christmas.  I wrote in my first blog how the main focus for me is getting some friends together for tasty Christmas treats and a natter.  So here I describe how the craft needs to be three things: simple and stylish, low cost and easy to clean up.  I also share some of the crafts that I have done for my Mind crafternoons in the past.
Simple and stylish
I want my guests to be able to create things that have a big impact for the effort required.  My guests have a range of abilities so I try to have something really basic and offer people a few ideas.  Those that are a bit more experienced or daring still have scope to show some creative flair and customise their makes.
It's also important that the craft doesn't require any specialist tools that you need to learn how to use– this is also a way of keeping costs down.  By keeping things simple, I reduce the amount of time that I personally need to spend "teaching" and also makes it easier for people to have more of a chat.
Low cost
I try to find low cost crafts so that the donation required will be relatively low in order to attract more people.  Inevitably, there will be people who, at the last minute,  are unable to attend.  They may be more willing to donate anyway if more of it goes to charity.  Also, if the cost of the materials is low, and they don't pay, then I won't lose too much money.  There's a fine balance between covering your costs, raising money and working out how much people are willing to donate.  Unfortunately, there is no magic formula for this – you'll just have to make your best guess based on your knowledge of people.
Easy to clean up
As I run my crafternoons at home, I need something that won't stain my furniture and won't mean that I'm finding glitter everywhere until next Christmas.  So anything that requires paint was generally a no-no until I moved to my house with wipe clean floors instead of cream carpets.
In need of some inspiration?
Pinterest is my biggest source of inspiration and I can spend hours browsing around, dreaming of my next mini project.  Here are some things that I've done in the past and an estimate of the costs.  The prices of the craft materials are mostly based on those from Hobbycraft.  You will find tutorials by googling or looking on Pinterest.  My next blog post will have a tutorial for modern geometric felt Christmas cards… so keep checking for updates.
Cards
·       Pack of cards – 30 cards for £5 – allow for around 6 cards per person
·       Felt – 50p for an A4 sheet – offer a selection of colours and allow around one sheet per person. Or £1 for an A4 sheet of self-adhesive felt (although the range of available colours is more limited)
·       Felt glue – £3.50 (normal PVA glue doesn't work very well as it gets absorbed by the felt)
Stencilled washbags, shoe bags and tote bags
·       Freezer paper – £10 (use to cut out stencils that you can iron onto the canvas and then peel off afterwards)
·       Paint brushes – £3 (set of 3 for kids' paint brushes)
·       Fabric paint – £3 (choose two or three colours to keep costs down)
·       Canvas bags – £1 each or £3.50 each for more substantial totes
·       Doilies – £1.20 for 25, use as stencils
Christmas jumpers
·       Ask each person to bring their own plain jumper to customise.  Or ask people to give you money in advance so you can pop down to Primark or similar to buy some.
·       Felt – 50p for an A4 sheet, offer a selection of colours and allow around one sheet per person.
·       Felt glue – £3.50 (see above)
·       Embroidery thread and needles – 36 skeins for £11, or buy individually for £2.10
·       Embroidery needles – £1.70 for 16 needles
·       Cotton thread – 6 pack for £1
Christmas crackers with fridge magnets and badges
·       Empty Christmas crackers – £5 for 6
·       Fimo – £2.50 per colour, colour bundles available from other suppliers
·       Magnets – £2 for 15 discs
·       Pin badges – £2 for 10 pins
·       Clay modelling tools – £3
Bear in Mind (from the Mind craft cupboard)
·       Felt – as above
·       Black thread – as above
·       Ribbon – starting from £1 for 15 metres of satin ribbon
·       Toy stuffing – £3.50 for 200g
·       Buttons – starting from around £1, or use your button stash
·       Felt glue – as above
---